Many of us need to be made aware that there is an alternative repayment method for PTPTN loans, which is using the Employees Provident Fund (EPF) Account II.
What does EPF withdrawal for PTPTN loan repayment mean?
EPF allows contributors or their family members to withdraw funds from their Account II to repay their PTPTN education loan. This application can be made online through e-Withdrawal on the EPF official website.
Advantages of repaying PTPTN loan via EPF
Borrowers can use savings from their own or their spouse's (husband/ wife), children's, and/ or parents' Account II (subject to withdrawal conditions).
There is no withdrawal limit; borrowers can pay off any outstanding amount, a portion of the loan, or the entire balance of their PTPTN education loan.
Borrowers can apply for withdrawals more than once as long as there is a balance in Account II.
No processing fees.
Enjoy cost savings in terms of interest rates and shorten the repayment period.
Even if borrowers have already repaid their PTPTN loan through salary deductions or direct debit, repayment via EPF is still allowed.
No supporting documents are required for subsequent withdrawals.
Start repaying your loan now!
Paying back PTPTN loan is easier with a withdrawal from EPF Account II
How to repay the PTPTN loan via EPF withdrawal
Borrowers can apply for repayment of their PTPTN education loan through their i-Account KWSP. Here are six (6) steps to make the application :
Step 1 : Log in to i-Account KWSP:
Enter User ID and click Login
Enter Password and click Continue
Step 2 : Withdrawal Application :
Select WITHDRAWAL on the main menu
Click New Application
Select the Education withdrawal type and complete your education details
Click Next
Step 3 : Complete Member Details and Eligible Amount
Complete personal information, contact information, withdrawal details and repayment details.
Click Next
Step 4 : Review Summary of Withdrawal Application
Check the details of your application and click Application TAC
Enter the TAC number from the SMS and click Send
If your details are complete, click Agree to certify yourself
Step 5 : Confirmation of Withdrawal Application
The application has been successfully submitted
The application status will be sent via SMS or security message inbox on i-Account KWSP 
Step 6 : Visit EPF Branch Office
The thumbprint verification process (CIJ) with documents set by EPF
Once PTPTN has processed this information, the transaction will take 7-14 working days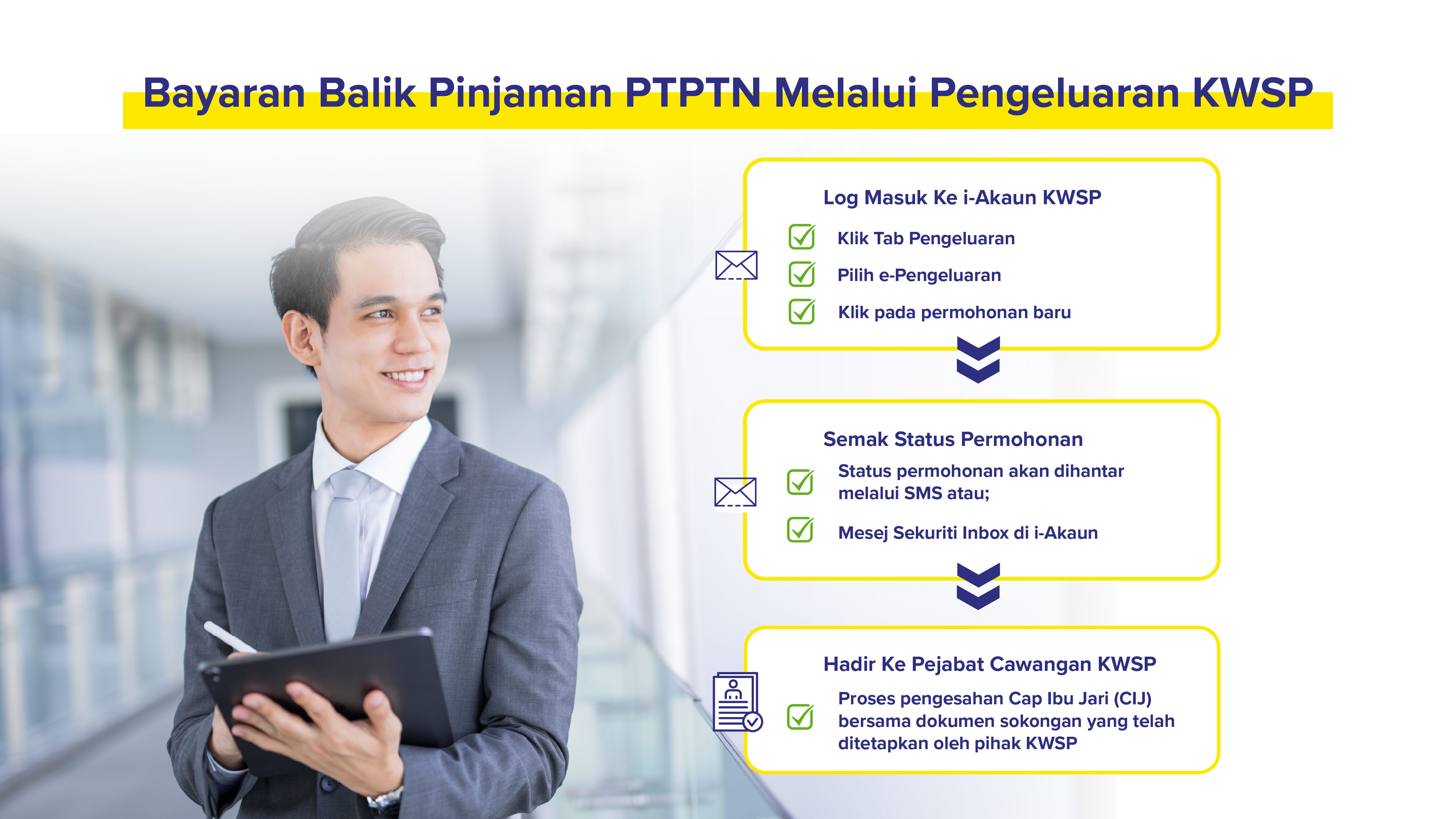 Further Inquiries
If you have any questions, please contact the PTPTN Careline at 03-21933000 or the EPF Customer Service at 03-89226000 for further assistance.
We hope this information is helpful and can assist you in settling your PTPTN education loan repayment. In addition, it helps future generations to continue their higher education with ease.