Memanfaatkan simpanan Kumpulan Wang Simpanan Pekerja (KWSP) adalah satu cara yang bijak bagi peminjam PTPTN untuk membuat bayaran balik pinjaman pendidikan mereka. Dengan menggunakan sebahagian daripada simpanan KWSP, iaitu Akaun 2 KWSP, peminjam bukan hanya dapat menyelesaikan pinjaman pendidikan, malah dapat memberi sumbangan kepada generasi yang akan datang.
Di artikel sebelum ini, kami telah kongsikan langkah mudah bayaran balik pinjaman PTPTN melalui KWSP yang menerangkan cara-cara untuk membuat permohonan pengeluaran Akaun 2 KWSP buat kali pertama. Sekiranya anda terlepas informasi tersebut, boleh baca here.
Ahli KWSP boleh memilih untuk mengeluarkan simpanan daripada Akaun 2 bagi membayar balik pinjaman pendidikan PTPTN sendiri, pasangan (suami/ isteri), anak-anak dan/ atau ibu bapa.
Sebelum membuat pengeluaran KWSP, jom semak baki pinjaman anda melalui myPTPTN dengan ikuti langkah di bawah:
Layari myPTPTN here
Masukkan No. Kad Pengenalan dan Kata Laluan untuk Log Masuk myPTPTN
Click "Review Statement."
Kini Lebih Mudah | Cara Permohonan Pengeluaran Kali Kedua
Permohonan bagi pengeluaran simpanan dari KWSP untuk kali kedua dan seterusnya, adalah lebih mudah kerana anda tidak perlu hadir ke Pejabat Cawangan KWSP bagi tujuan cap jari. Jadi, kami kongsikan cara membuat pengeluaran KWSP kali kedua dan seterusnya seperti di bawah.
Step 1: Log in to i-Account KWSP​
Enter User ID and click Login.
Enter Password and click Continue
Langkah 2: Permohonan Pengeluaran
Select WITHDRAWAL on the main menu
Click New Application
Select the Education withdrawal type and complete your education details
Click Next
Step 3 : Complete Member Details and Eligible Amount
Complete personal information, contact information, withdrawal details and repayment details.
Click Next
Langkah 4: Semakan Ringkasan Permohonan Pengeluaran ​
Check the details of your application and click Application TAC
Enter the TAC number from the SMS and click Send
If your details are complete, click Agree to certify yourself.
Step 5: Confirmation of Withdrawal Application
The application has been successfully submitted.
The application status will be sent via SMS or security message inbox on i-Account KWSP. 
Setelah PTPTN memproses dan mengesahkan maklumat permohonan ini, transaksi akan mengambil masa dalam tempoh 7-14 hari bekerja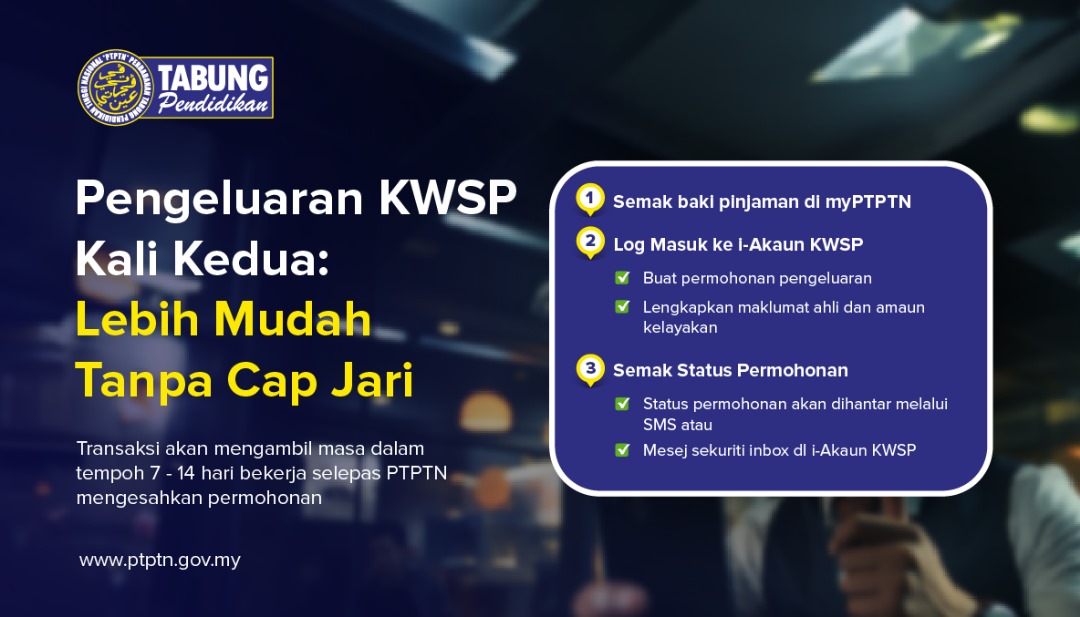 Further inquiries
Sekiranya anda mempunyai sebarang pertanyaan, sila hubungi Careline PTPTN di 03–21933000 or Khidmat Pelanggan KWSP di 03–89226000 untuk bantuan lanjut.
Semoga perkongsian ini dapat memberi manfaat kepada anda. Jangan tunggu lagi, mulakan bayaran balik pinjaman PTPTN anda melalui KWSP hari ini.